Rich Papperman Referee of the Year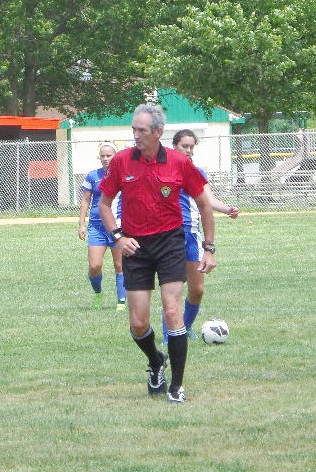 By day, Rich Papperman, PA, MBA, CHBME, president of Cape Medical Billing, guides physicians, office managers and EMS personal through the maze of insurance reimbursements. His goal is to increase revenue for his clients.
But for more than 20 years now, from March to November, Papperman comes out from behind his desk of his Cape May Court House office to officiate US Soccer --youth, high school, and college. Soccer is a sport he has loved from his days as a goalie on his high school team. Then
,
he gave his all to keep the other side from scoring. Ironically today, as President of Cape Medical Billing he still is a goalkeeper of sorts--protecting his clients from corner kicks and trick shots by insurance companies trying to avoid paying medical claims.
"I've always liked soccer," said Papperman, who saw refereeing as a way to continue his connection to the sport. "I do get quite a bit of exercise," he remarks, "but it's more than that
--
I really enjoy the game
.
The sport offers so much for players and fans. It has a strategic side and a pure athletic side. I enjoy both."
Recently Papperman's dedication and passion for soccer was recognized when he received the New Jersey State Interscholastic Athletic Association (NJSIAA)
as the "2015 High School Male Referee of the Year."
The New Jersey State Interscholastic Athletic Association, founded in 1918, is a voluntary, non-profit organization made up of 433 accredited public, private and non-public high schools in the state. The New Jersey Association, joining with the other 49 State Associations, constitutes the National Federation of State High School Associations which has represented the best interests of high school athletics since 1920. Today it represents 22,000 schools, more than 330,000 coaches, and almost 4.5 million high school athletes. Each year, the organization recognizes the outstanding contribution of coaches, players and referees.
Among his contributions, Papperman is USSF State Emeritus referee, State Assessor, Instructor, and Assignor. He is also a soccer referee for NCAA, NJSIAA/NFHS and the Chapter Interpreter for the local high school chapter, ACCSOA. He also serves as Vice President of the Atlantic, Cape May, Cumberland Soccer Officials Association (ACCSOA).
Prior to opening Cape Medical Billing over 25 years ago, Papperman held executive positions with several major hospitals throughout the United States. Additionally, he is a Physician's Assistant, a Certified Healthcare Billing and Management Executive (CHBME), and graduated from the Wharton Graduate School, University of Pennsylvania with a Masters in Business Administration.